(1785-1851)
FOLIO QUADRUPEDS
Prints are from The Viviparous Quadrupeds of North America and are approximately 22" x 28" in size.

The Cougar, Male, #96

The Cougar, Female & Young, #97

Hare Indian Dog, #132

The Grizzly Bear, #131

Southern Flying Squirrel, #28


The Red Texan Wolf, #82

Black-Tailed Deer, #78

Franklins Marmot Squirrel, #84

Caribou or American Reindeer, #126

Prairie Dog, #99

The Musk Ox, #111

Polar Bear, #91
OCTAVO QUADRUPEDS
Prints are from The Quadrupeds of North America (1849-1854) and are approximately 10" x 7" in size.
(More Octavo Quads available, please inquire)

American Bison, Male, #56

Polar Bear, #91

Grey Fox, #21

Prairie Wolf, #71

Red Texan Wolf, #82

Canada Porcupine, #36

Black American Wolf, #67

Cougar, Female with Young, #97

Hare Indian Dog, #132

Jackall Fox, #151

Long-tailed Skunk, #102

Mountain Brook Mink, #36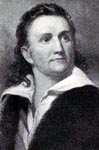 John James Audubon (1785-1851)



John James Audubon (1785-1851), the most famous bird painter of all time was born illegitimately in Saint Domingue (Haiti, West Indies). His father, a French Sea and Naval Captain, who fought with Admiral DeGrasse in the American Revolution, owned sugar plantations there. Audubon's biological mother, Jean Rabin, a French émigré to Santa Domingo, worked as a chambermaid and died the year he was born. In 1791, at the age of 6, Audubon was taken to France to a villa near Nantes where he was officially adopted and reared as Captain and Ann Moynet Audubon's own son. He was christened Jean-Jacques Fougere (translated "fern") Audubon to placate the anti-Christian French Revolutionaries who frowned on Christian names and were beginning The Reign of Terror. In 1803 Captain Audubon managed to save his son from Napoleon's conscription by sending him to Mill Grove, another family property just outside Philadelphia, PA on the Schuylkill River. Here John James Audubon lived the life of a country squire intrigued by the splendors of nature and local society. Lucy Bakewell, the highly literate daughter of a prominent English émigré family living on a neighboring estate, became his wife after a courtship of five years.
The Audubon's proceeded with ambitious plans to build a comfortable life in the mercantile business, moving to Henderson, KY setting up a profitable store and raising their surviving children, Victor Gifford and John Woodhouse. The Panic of 1817 precipitated a bankruptcy over investments in a large saw and grist mill. This crisis led to Audubon's decision to seriously pursue his bird paintings. From this time, life became a series of crisis and itinerate jobs to support his art. Committed to her husband's life work, Lucy moved to St. Francisville, LA to open a school and rear their sons.
On May 17,1826 with Lucy's moral and monetary support, Audubon sailed from New Orleans aboard the cotton schooner, Delos, bound for Liverpool, England to begin work to publish his paintings. In less than a week, he was invited to exhibit his drawings at the Royal Institution and proclaimed a great American genius.
In November of 1826, William Home Lizars of Edinburgh begins to engrave Plate #1 "The Wild Turkey" of Audubon's immortal work The Birds of America. In May 1827, Robert Havell, Jr. of London takes over the printing after Lizar's hand-colorists strike.
The great work will take eleven years to produce 435 life-size plates printed on the largest paper available, Double-Elephant. It will be financed by subscribers who receive a sequence of parts containing 5 prints (1 large bird, 2 medium, 3 smaller birds making up each part), to be paid upon receipt. The entire work totaled 87 parts costing $1,050 U.S., a fantastic sum in the 1830's.
During this period, Audubon must constantly acquire new subscribers to make up for those that quit, monitor the printing and coloring, insure timely shipments and collect payments. The payment for each part will finance the production of the next five prints.
Audubon must return to America in 1827, 1831 and 1836 to paint more birds to fulfill his goal of illustrating all the known American birds. During his 1831 trip to America, he formed one of his most important and lasting friendships when he was introduced to the Reverend John Bachman, the 41-year-old pastor of St. John's Lutheran Church of Charleston, SC. Audubon moved into Bachman's large home on Pinckney Street and Bachman helped Audubon locate new species of birds to paint and subscribers to the growing work. June 20, 1838, the 87th 5 print part of The Birds of America is published, concluding the great work after an arduous twelve years.
Audubon and his family continue to work producing a small copy of the Double-Elephant Folio created with the use of a technical device called the camera lucida. Called the Royal Octavo Edition, and more affordable to Americans at $100US these hand-colored lithographs were first published from 1840-1844.
Audubon collaborated again with his old friend, John Bachman, the American expert on mammals, to produce Folio and Octavo works called the Viviparous Quadrupeds of North America. The Reverend Bachman's daughters Maria and Eliza married Audubon's two sons.
The Octavo works became bestsellers, with the United States government purchasing copies to be given to visiting international dignitaries. Georges Cuvier, a 19-century leader of European science, characterized Audubon's great achievement as "the most magnificent monument which has yet been erected to Ornithology." And so it is considered to this day.