(1726-1798)
Prints are copper plate engravings with original hand coloring from
The British Zoology
(1761-1766) and are approximately 14.75" x 21" in size.

The Great Speckled Diver, #139

The Corvorant, #159

The Greater Tern, #144

The Brent Goose, #151

The Little Auk, The Black Gullemot, #137

The Pintail, Female, #156

The Pintail, Male, #156

The Eider Duck, #152

The Pochard, #156

The Swallow-tailed Sheildrake, #156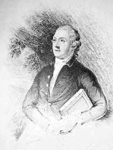 Thomas Pennant (1726-1798)
Thomas Pennant was one of the foremost naturalists, travel writers, and antiquarians of the early 18th century. Born into an old Welsh family in Downing, Flintshire in 1726, Pennant was drawn to the study of natural history at a young age. After many years of determined education and research, Pennant made acquaintances with several well-known individuals including Carolus Linnaeus. In 1757, Linnaeus promoted Pennant's election as a member of the Royal Swedish Society of Sciences. A few years later, in 1766, Pennant's first work The British Zoology was published, which was followed by his election as a fellow of the Royal Society of London, then the most prestigious scientific body in the world.The magnificent engravings from his British Zoology work were created by Peter Mazell based on drawings by Peter Paillou and others and feature original hand-coloring.