(1785-1851)

NPR's On Point radio segment
John James Audubon And 'The Birds Of America.'

Click here to listen


The Audubon Bronze, by Edinburgh artist Stuart Russell,
has the distinction of being the only exact image of
Audubon, made from the naturalist's 1827 life mask.
Please click the image for an enlargement and for purchase
information for this limited edition bronze.
A rare first edition, four volume set of John James Audubon's The Birds of America, accompanied by a first edition five-volume set on his Ornithological Biography. The books measure over three feet tall.
To learn more about Audubon's The Birds of America click on the links below:
MSNBC / The Today Show: Rare 'Birds of America' book sells for $11.5M, breaks record

BBC: Birds of America sets £7m sales record at Sotheby's

BBC: Audubon's Birds of America: The world's most expensive book
HAVELL / DOUBLE-ELEPHANT FOLIO
Prints are copper-plate etchings with aquatint and original hand-coloring on Whatman watermarked paper from The Birds of America (1826-1838). Prints are approximately 25" x 38" in size.


The Ruff-necked Hummingbird, #379

The Virginia Rail, #205
(Queen Adelaide)

The Scaup Duck, #229
(Queen Adelaide)

The Golden Crowned Thrush, #143

Pipiry Flycatcher/Gray Kingbird, #170

Lincoln Finch
#193

Prothonotary Warbler
#3

Tennessee Warbler
#154

Ruddy Duck, # 343

Bay-breasted Warbler,
# 69

Western Duck, #429
BIEN
Prints are hand-finished chromolithographs from The Birds of America (1858-1860) and are approximately 26" x 39" in size.


The Green Heron, #367 Part 6-3

The Crested Grebe, #389 Part 6-4

The Mallard Duck, #385
Part 2-1

Summer or Wood Duck, plate 391, part 5-1


The Yellow-billed Cuckoo, #275 Part 2-3

Ferruginous Thrush, #141 Part 11-2

Golden-winged Woodpecker #278,Part 12-3
OCTAVO
Prints are stone lithographs with original hand-coloring from The Birds of America (1840-1844 first edition Octavo) and are approximately 7" x 10" in size. (More first edition Octavo's available, please inquire)


The Goldfinch, #181

Carolina Turtle Dove, #286

Columbia Jay, #229

Gold-winged Woodpecker, #273

Great Horned Owl, #39

Florida Jay, #233

Connecticut Warbler, #99

Whooping Crane, #313

Blue-winged Teal, #393

Cardinal, #203

Long-Billed Curlew, #355

Wild Turkey, Female with young, #288

Red Shafted Flicker, #274

Red Cockaded Woodpecker, #264

Swamp Sparrow with Mayapple, #175

Frigate Bird, #421

Sharped-Tailed Sparrow, #174

Red Headed Woodpecker, #271


Hooded Merganser, #413

Black Skimmer, #428

Red Breasted Merganser, #412


Black Crowned Night Heron, #363

American Anhinga, #420

Booby Gannet, #426

Great Cinerous Owl, #35

Glaucous Gull, #449

Trudeau's Tern, #435

Dusky Shearwater, #458

Monk Shearwater, #457




Laughing Gull, #443


Great White Heron, #368

Yellow crowned Wood Warbler, #76

Black & Yellow Wood Warbler, #96

American Avocet, #353

Blue yellow-backed Wood Warbler, #91


Chestnut-sided Wood Warbler, #81

Cape May Wood Warbler, #85

Black-poll Wood Warbler, #78
AUDUBON CENTENNIAL EDITION

It is with pleasure I introduce the new "Audubon Centennial Edition" of John James Audubon's The Birds of America (1826-1838). This facsimile edition has been created in tribute to the 100- year celebration of the National Audubon Society.Please click on the thumbnail for more information and to view selected images and a price list. All 435 Audubon images will be reproduced. If you don't see the image you want listed please contact Antique Nature Prints.

"For all around quality and value, the Audubon Centennial Edition facsimile prints are the best you can buy."

- Ron Flynn
Author of "Modern Audubon Birds of America DEF Editions - A Complete Review"


Archival framing by Antique Nature Prints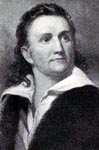 John James Audubon (1785-1851)
John James Audubon, the most famous bird painter of all time was born illegitimate in Saint Domingue (Haiti, West Indies). His father, a French Sea and Naval Captain, who fought with Admiral DeGrasse in the American Revolution, owned sugar plantations there. Audubon's biological mother, Jean Rabin, a French émigré to Saint Domingue (Haiti, West Indies), worked as a chambermaid and died the year he was born. In 1791, at the age of 6, Audubon was taken to France to a villa near Nantes where he was officially adopted and reared as Captain and Ann Moynet Audubon's own son. He was christened Jean-Jacques Fougere (translated "fern") Audubon to placate the anti-Christian French Revolutionaries who frowned on Christian names and were beginning The Reign of Terror. In 1803 Captain Audubon managed to save his son from Napoleon's conscription by sending him to Mill Grove, another family property just outside Philadelphia, PA on the Schuylkill River. Here John James Audubon lived the life of a country squire intrigued by the splendors of nature and local society. Lucy Bakewell, the highly literate daughter of a prominent English émigré family living on a neighboring estate, became his wife after a courtship of five years.
The Audubon's proceeded with ambitious plans to build a comfortable life in the mercantile business, moving to Henderson, KY setting up a profitable store and raising their surviving children, Victor Gifford and John Woodhouse. The Panic of 1817 precipitated a bankruptcy over investments in a large saw and grist mill. This crisis led to Audubon's decision to seriously pursue his bird paintings. From this time, life became a series of crisis and itinerate jobs to support his art. Committed to her husband's life work, Lucy moved to St. Francisville, LA to open a school and rear their sons.
On May 17,1826 with Lucy's moral and monetary support, Audubon sailed from New Orleans aboard the cotton schooner, Delos, bound for Liverpool, England to begin work to publish his paintings. In less than a week, he was invited to exhibit his drawings at the Royal Institution and proclaimed a great American genius.
In November of 1826, William Home Lizars of Edinburgh begins to engrave Plate #1 "The Wild Turkey" of Audubon's immortal work The Birds of America. In May 1827, Robert Havell, Jr. of London takes over the printing after Lizar's hand-colorists strike.
The great work will take eleven years to produce 435 life-size plates printed on the largest paper available, Double-Elephant. It will be financed by subscribers who receive a sequence of parts containing 5 prints (1 large bird, 2 medium, 3 smaller birds making up each part), to be paid upon receipt. The entire work totaled 87 parts costing $1,050 U.S., a fantastic sum in the 1830's.
During this period, Audubon must constantly acquire new subscribers to make up for those that quit, monitor the printing and coloring, insure timely shipments and collect payments. The payment for each part will finance the production of the next five prints.
Audubon must return to America in 1827, 1831 and 1836 to paint more birds to fulfill his goal of illustrating all the known American birds. During his 1831 trip to America, he formed one of his most important and lasting friendships when he was introduced to the Reverend John Bachman, the 41-year-old pastor of St. John's Lutheran Church of Charleston, SC. Audubon moved into Bachman's large home on Pinckney Street and Bachman helped Audubon locate new species of birds to paint and subscribers to the growing work. June 20, 1838, the 87th 5 print part of The Birds of America is published, concluding the great work after an arduous twelve years.
Audubon and his family continue to work producing a small copy of the Double-Elephant Folio created with the use of a technical device called the camera lucida. Called the Royal Octavo Edition, and more affordable to Americans at $100US these hand-colored lithographs were first published from 1840-1844.
Audubon collaborated again with his old friend, John Bachman, the American expert on mammals, to produce Folio and Octavo works called the Viviparous Quadrupeds of North America. The Reverend Bachman's daughters Maria and Eliza married Audubon's two sons.
The Octavo works became bestsellers, with the United States government purchasing copies to be given to visiting international dignitaries. Georges Cuvier, a 19-century leader of European science, characterized Audubon's great achievement as "the most magnificent monument which has yet been erected to Ornithology." And so it is considered to this day.