(1766-1813)
Prints are from
American Ornithology
(1808-1814) and are approximately 10" x 13" in size.

Rose breasted Grosbeak, #17

Long-eared Owl, #51

Belted Kingfisher, #23

Cowbird,(Male,Female &Young);Maryland Yellow-throat, and Blue-grey Flycatcher, #18

Mottled Owl, Meadow Lark, Black & White Warbler and Pine-creeping Warbler, #19

Shrike, Pine Grosbeak, Ruby-crowned Kinglet and Shore Lark, #5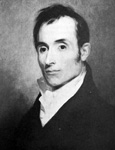 Alexander Wilson (1766-1813)
Father of American Ornithology
Alexander Wilson was born into a family of Scottish weavers on July 6th, 1766 at Paisley. Scotland's third largest city was its most important weaving center known for the paisley print fabric and home to another important American immigrant the Rev. John Witherspoon, Wilson's church pastor. John Witherspoon became President of Princeton College, a signer of the Declaration of Independence and leader of the American Revolution.
Wilson's early childhood was idyllic, forming in the boy a love of the outdoors. He was considered precocious and as a gifted child, he was directed toward the ministry and Witherspoon. However, Wilson's mother's death by tuberculosis before his tenth birthday resulted in the end of his formal schooling. At the age of fourteen years he was apprenticed as a weaver, but his intelligent sensitive personality and keen powers of observation drew him to poetry and natural history.
He achieved fame with his poem Watty and Meg, often mistaken as a work of the great Robert Burns. His sense of justice precipitated his writing and publishing a poem, The Shark, criticizing an unjust Paisley mill owner. The poem resulted in a libel suit and Wilson's subsequent imprisonment. Wilson, despondent, soon fled Scotland for a new life in America.
Wilson landed outside of Philadelphia on July 14th, 1794. He found employment as a schoolteacher and soon formed a close friendship with his near neighbor, William Bartram (1739-1823), the son of the King's Botanist to the Colonies, John Bartram (1699-1777). The Bartram's had established a famous botanical garden, which still exists on the banks of the Schuykill River. William Bartram taught Wilson to draw and encouraged Wilson's bird studies. Another Scot, Alexander Lawson, a Philadelphia engraver, gave drawing lessons and encouragement and became the engraver for Wilson's groundbreaking work on American birds, American Ornithology 1808-1814.
The Ornithology was the first great Natural History work devoted solely to American birds and has the distinction of being the first truly outstanding American Color Plate book of any type. It consists of nine volumes, containing 76 color plates composed of 320 figures and depicting 262 species, including 48 that were entirely new.
Wilson, like most early naturalists, was a prodigious walker, once taking only from October to December to complete a 1300 mile trip. His 8th volume was on the presses when he was taken ill and died of dysentery on August 23rd,1813 in Philadelphia at the age of 47. George Ord completed the 9th and final volume.